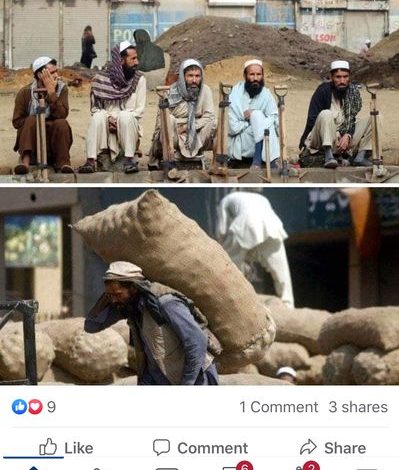 By Qasim Swati (United Kingdom)
Hard work is a great deal of effort or endurance. It is the process of working with energy and commitment, while always putting a lot of effort and care into what you do. Many people believe that hard work is the key to success in life. This is why Gordon B. Hinckley (1910-2008), an American religious leader and author, once said: "Without hard work, nothing grows, but weeds." Similarly, an Indian actress, working in Hindi films (Deepika Padukone) is of the opinion that "The fruit of your own hard work is the sweetest", meaning that whatever you gain, as a result of your own efforts, is better than anything else. Even a famous American professional soccer player, Timothy Tarpeh Weah, is so much obsessed with the idea of the power of hard work that he considers working hard as a basic element for making anything likely and expected, as "With hard work and dedication, anything is possible."
While distinguishing talent from success, an American author (Stephen Edwin King) says: "Talent is cheaper than table salt. What separates the talented individual from the successful one is a lot of hard work." Likewise, Harry Lewis Golden (1902–1981) was a Ukrainian-born American writer and newspaper publisher, who valued the importance of hard work so much that he used to say, as: "The only thing that overcomes hard luck is hard work."
This is because of the significance of working hard in our lives that the longest-serving British prime minister of the 20th century and the first female premier of the country, Margaret Hilda Thatcher (1925–2013), expressed her opinion, regarding hard work in these words: "I do not know anyone who has got to the top without hard work. That is the recipe. It will not always get you to the top, but should get you pretty near."
Once shedding light on the power of hard work, Virat Kohli, an Indian international cricketer and former captain of the Indian national team, opined, as "Self-belief and hard work will always earn you success." In like manner, an American businessman and inventor, Thomas Alva Edison (1847–1931), went to such an extent, whilst emphasizing the importance of working hard, to say, as: "There is no substitute for hard work."
Despite so much significance of hard work in our lives, sometimes, we cannot reap as many benefits of our hard work as possible, because of various factors and reasons. For instance, sometimes, we work hard, but we are not consistent in what we are doing. However, consistency is very essential for getting the maximum possible results from any task we have to do. We can benefit from our hard work, to a great extent, if we do not give up, but continue our struggle in a consistent way, while undertaking any activity. This is the reason why Dwayne Douglas Johnson, an American businessman, actor and former professional wrestler, believes, as "Success is not always about greatness. It's about consistency. Consistent hard work leads to success. Greatness will come."
Another reason of our failure to fully benefit from our hard work is our tendency to be rash in expecting to be successful overnight. As it is said that "Human is, by nature, hasty", who wants the achievement of the desired results in no time. But we must be patient to give the process an enough and due time for yielding its fruit, as every performance in life needs a certain period of time to take place. That is why John Heywood (1497–1580), an English dramatist and writer, believes, as: "Rome was not built in one/a day", which means that it takes a long time to do a job or task properly, and you should not rush it or expect to do it quickly.
One of the many other factors responsible for stopping us from getting the expected outcomes from working hard is the way we perform a task. In other words, sometimes we try our best to make efforts for achieving our intended goals, aims and objectives, but we still cannot get from our hard work what we want to gain, because we do it (the relevant activity) in a wrong way. For getting the best possible results from our hard work, we need to do anything at the right time, in the right place and in the right way. That is why this issue has been referred to by Ray Douglas Bradbury (1920–2012), an American screenwriter and author, as: "I know you've heard it a thousand times before. But it's true – hard work pays off. If you want to be good, you have to practice, practice, practice. If you don't love something, then, don't do it."
The bottom line is that hard work has so many merits and advantages (both mental and physical) in our lives. Even if we do not get the desired results from our hard work at some point for some reason, we can still develop our skills with the hard work we do for achieving some goals. Hard work can help us build our confidence; make our dreams come true one day; give us dignity and respect in our society; enable us to learn from our mistakes; improve our performance; develop our personal and work-related skills, and so on. For reaping as many benefits of our hard work as possible, we will have to work hard in  a consistent, accurate and systematic way in order to achieve our aims, objectives and goals, and, thus, have a unique position in the society.
So, this is crystal clear that we can benefit from our hard work in one way or another, providing we continue our efforts in a constant and consistent way and do not give up. This is because of the value of hard work that Dustin Charles Lynch, an American country music-singer and songwriter, believes, as: "Hard work always pays off, whatever you do", meaning that your hard work and efforts can never prove futile, fruitless and useless, but can benefit you in some form instead.
Qasim Swati is a freelance journalist, writer and human rights activist, based in the UK, and can be reached at https://qasimswati.com or qasimswati2003@yahoo.co.uk.