Geo Politics
Recent
The Celebration of the Platinum Jubilee of Her Majesty The Queen, Elizabeth II: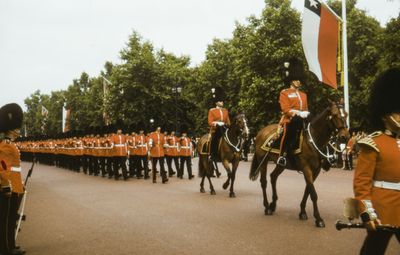 By Qasim Swati (United Kingdom)
Her Majesty The Queen became the first British monarch to celebrate her Platinum Jubilee on February 6, 2022, while marking her 70th anniversary of the accession to the thrones of the United Kingdom and other Commonwealth realms on 6 February, 1952. She is the only British monarch who commemorated more jubilees than any other monarch in British history so far.
The various jubilees, celebrated by Queen Elizabeth II, include Her Majesty The Queen's Silver, Ruby, Golden, Diamond, Sapphire and Platinum Jubilees in 1977, 1992, 2002, 2012, 2017 and 2022 in order to mark the 25th, 40th, 50th, 60th, 65th and 70th anniversaries, respectively, a period of 70 years of her service to the people of the United Kingdom, the Commonwealth Realms and the Commonwealth nations.
The celebration of the Platinum Jubilee of Elizabeth II opened a new chapter in the history of the British Royal Family, because this was a unique event, celebrated, not only in the United Kingdom of Great Britain and Northern Ireland, but the commemoration also took place in many other Commonwealth nations, British Overseas Territories and Crown Dependencies, including Papua New Guinea, New Zealand, Cayman Islands, Canada, Australia, The Bahamas, Belize, Jamaica, Malta, Saint Kitts and Nevis, Guernsey, Jersey, Isle of Man, Bermuda, Gibraltar, Saint Helena and even other countries, like Romania, Qatar and France.
Apart from the observance of the 70th anniversary of the accession of Queen Elizabeth II in many countries and territories of the globe, Her Majesty The Queen also received tributes and messages of congratulations from a substantial number of world leaders, including the Israeli President (Isaac Herzog), King Carl XVI Gustaf of Sweden, President of the United Arab Emirates (Sheikh Khalifa bin Zayed bin Sultan Al Nahyan), King Vajiralongkorn of Thailand, King Harald V of Norway, German Chancellor (Olaf Scholz), the President of China (Xi Jinping) and the US President (Joseph Robinette Biden Jr., commonly known as Joe Biden).
New commemorative jubilee stamps, 50p coins and £5 British crowns were released, Platinum Jubilee Medal created, Platinum Pudding competition launched and gun salutes held in the United Kingdom, while commemorative stamps and coins were released, gun salutes fired, tree planting campaigns and initiatives launched and other events held in Australia, Canada and other Commonwealth countries, British Overseas Territories and Crown Dependencies, as part of celebrating the Platinum Jubilee of Her Majesty The Queen.
Qasim Swati is a freelance journalist, writer and human rights activist, based in the UK, and can be reached at https://qasimswati.com or qasimswati2003@yahoo.co.uk.