Geo Politics
Recent
Her Majesty The Queen: The Longest-serving Female Head of State in History: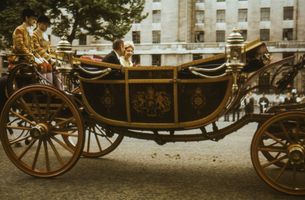 By Qasim Swati (United Kingdom)
Born in Mayfair, London, UK, on 21 April, 1926, Elizabeth II (Elizabeth Alexandra Mary) is the Queen of the United Kingdom and 15 other Commonwealth realms, whilst still being capable of performing many of her official duties at the age of 95 in an appropriate and professional way.
Her Majesty The Queen became a queen regnant of seven independent Commonwealth countries, including the United Kingdom, New Zealand, Australia, Canada, Ceylon (Sri Lanka), Pakistan and South Africa, when she was just 25 after the demise of her father, King George VI, in February, 1952.
Queen Elizabeth II has already celebrated her Silver, Golden, Diamond and Sapphire Jubilees in 1977, 2002, 2012 and 1917, respectively, while her Platinum Jubilee is planned for and expected to take place in 2022, when she reaches the 70th anniversary of her accession to the throne.
Her Majesty The Queen is not only the longest-reigning and the longest-lived British monarch, but she is the oldest-lived and the longest-serving incumbent head of state, the oldest-living and the longest-reigning current monarch, too. However, it is hoped that she would exceed or surpass Louis the Great/the Sun King or Louis XIV of France on 27 May, 2024, as the longest-reigning monarch of a sovereign state in verified world history, if she continues and carries on as usual.
She is also respected and appreciated for her courage, bravery, determination and being strong-willed, because she has gone through various problems, crises and challenges, including threats, assassination attempts and opposition to the monarchy, etc., during her reign both at home and abroad.
She is not only a world-wide respectable figure, but her personality is also a beacon of hope and a source of advice, both for the British as well as world politicians, as the majority of them look forward to getting and receiving valuable guidance and advice from her both in the peace and troubled times.
Thus, Her Majesty The Queen is an emblem of unity for the people and politicians of the United Kingdom, a symbol of representation for the Commonwealth countries, a good example for monarchs around the world and a role model for many world politicians.
Qasim Swati is a freelance journalist, writer and human rights activist, based in the UK, and can be reached at https://qasimswati.com or qasimswati2003@yahoo.co.uk.