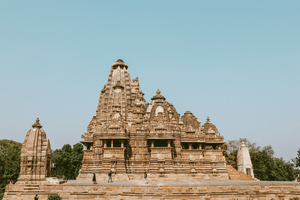 By Qasim Swati (United Kingdom)
Declining from 14% in 1941 to 2.14% in 2017, there are some 4.44 million Hindus living in Pakistan, according to the 2017 Pakistan Census. However, various sources do not acknowledge the authenticity of the   statistics given, about the Hindu population in Pakistan, to be true and it is believed that there are more than 8 million Hindus in Pakistan instead, as claimed by the Pakistan Hindu Council.
Nevertheless, Hinduism has once been the commanding belief or faith for a long time in the region where today's Pakistan does exist, and is still the second largest religious affiliation, after Islam, in Pakistan.
The three major regions with significant Hindu populations in Pakistan are Sindh, Punjab and Balochistan, respectively. However, there are some Hindus in the Khyber Pakhtunkhwa province and the Islamabad Capital Territory of the country as well.
The majority of Pakistani Hindus, Sikhs, Christians and other minorities love the country and are proud to be Pakistanis. That is why the Pakistani Hindus have condemned the new Indian Citizenship Amendment Act (CAA) and rejected India's offer of granting them Indian citizenship under the new law, as reported on the gulfnews.com on December 18, 2019.
Whether this is the fashion industry or sports, the politics or the police department, the army or the department of agriculture, the justice system of the country or the department of education, the Pakistani Hindus have played and are still playing a significant role in the development of the Pakistani society, which cannot be ignored.
There are many famous Pakistani Hindus, who have done a lot for the welfare of the country, but some of them include such prominent figures, as Ramesh Kumar Vankwani (a politician and founder of Pakistan Hindu Council), Rana Hamir Singh (a politician and the 26th Rana of Amarkot/the current crown Rajput Ruler of Umerkot), Rana Chandra/Chandar Singh (a former politician), Veeru Kohli (a bonded labour and human rights activist), Pushpa Kumari Kohli (the first Hindu woman to become a police officer in Pakistan), Suman Pawan Bodani (a judge), Mahesh Kumar Malani (a politician), Naveen Perwani (an amateur snooker player), Rana Bhagwandas (a former senior judge and acting chief of justice of the Supreme Court of Pakistan), Deepak Perwani (an actor and fashion designer), Anil Dalpat Sonavaria (a cricketer), Danish Parabha Shanker Kaneria (a former cricketer) and Ratna Bhagwandas Chawla (a politician of the Pakistan Peoples Party and the first Hindu woman to be elected to the Senate of Pakistan).
Despite making a significant positive contribution to the Pakistani society, Pakistani Hindus have experienced and are still going through such human rights violations against them due to certain extreme and hardline elements, existing in Pakistan, as targeted sexual harassment, attacks, discrimination and religious persecution, including forced religious conversion, desecration and demolition of Hindu temples and destruction of other educational centres, etc.
It is nevertheless noteworthy that one of the basic reasons for attacking and demolishing Hindu temples and their religious persecution is the prompt reaction and ultimate outcome of desecrating, attacking and destroying mosques and assaulting Muslims in neighbouring India by extremist Hindus.
Anyway, there are various examples of disrespecting and demolishing Hindu temples and attacking Hindus in Pakistan. For instance, a Hindu temple was destroyed in Lahore in 2006 in order to construct a multi-storied commercial building there on the same premises. A policeman was gunned down by someone, because he was standing outside a Hindu temple in Peshawar in 2014 to protect it against any possible attack. Similarly, a group of Muslims attacked a Hindu temple and a Dharamshala/dharmashala ([in South Asia], a building devoted to religious or charitable purposes, especially a rest house for travellers) in Larkana District of Sindh province in 2014.
It was in 2019 that three Hindu temples were deliberately destroyed in Ghotki District in Sindh over accusations of blasphemy and another Hindu temple was vandalised and fire set to idols and holy books inside the temple in the same province. Likewise, some criminals vandalised a Hindu temple, set fire to holy scriptures and desecrated the idols in Tehsil (an administrative area in parts of India and Pakistan) Chachro of Tharparkar District in the province of Sindh in January, 2020, while it was in December of the same year that another Hindu temple was attacked and vandalised in a village, named Teri, situated in Karak District of Khyber Pakhtunkhwa this time.
Recently, another Hindu temple was attacked, idols damaged and parts of the temple burned down by a large crowd of Muslims in Rahim Yar Khan District of the province of Punjab, Pakistan, in August, 2021.
As referred to earlier, another big issue of discussion is forced conversion of minority girls to Islam, which is estimated to be up to 1,000 girls each year, and the majority of them being Hindus.
Hindu girls are not only the victims of forced conversion to Islam, but a larger number of them are being converted to Christianity by Irish Christian missionaries, and Korean Christian missionaries and by Ahmadiyya missionaries to Ahmadiyya or the Ahmadiyya Muslim Jama'at, too.
Due to various factors and unfavourable circumstances, some Pakistani Hindus feel that they are not treated equally in the country, but are considered and behaved towards as second-class citizens. This is the reason why many of them have carried on with migrating to India, and, thus, some 5,000 Hindus are migrating to India from Pakistan annually, as revealed in May, 2014 by Dr. Ramesh Kumar Vankwani (a member of the then ruling Pakistan Muslim League – Nawaz) in the National Assembly of Pakistan.
Qasim Swati is a freelance journalist, writer and human rights activist, based in the UK, and can be reached at https://qasimswati.com or mailto:info@qasimswati.com.