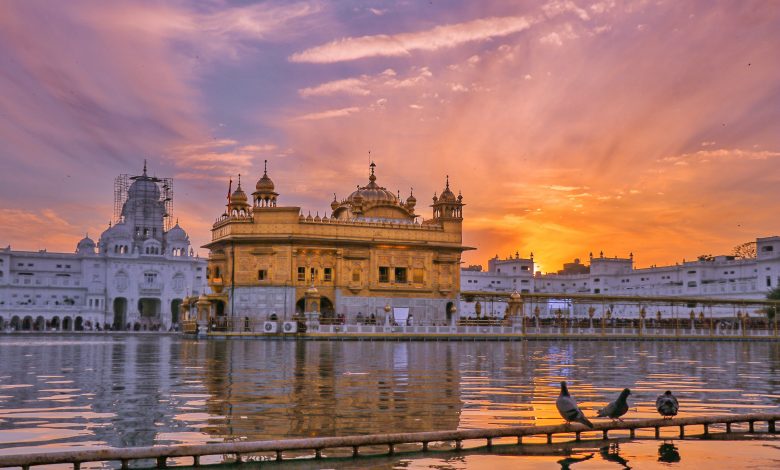 By Qasim Swati (United Kingdom)
Founded by Guru Nanak or Baba Nanak (1469 – 1539), Sikhism is a panentheistic and monotheistic religion that emerged in the Punjab region of the Indian subcontinent around at the end of the 15th century CE. Despite being one of the youngest of the major religions of the world, Sikhism is the world's fifth-largest organized religion, with about 30 million Sikhs as its followers and adherents worldwide, as of the early-21st century. Nevertheless, it is estimated that there are, approximately, as many followers of the teachings of Guru Nanak as 120 – 150 million, globally, and known as Nanak Naam Lewas/Nanakpanthis (people who believe in Guru Granth Sahib and 10 Sikh Gurus and follow the teachings of Guru Nanak in life).
Sikhism demonstrates its uniqueness due to its Five Ks, which are Kesh (uncut hair, usually tied and wrapped in a dastar or an item of head-wear associated with Sikhism), Kanga (a wooden comb), Kachera (cotton undergarments, worn by both males and females), Kara (an iron bracelet), and Kirpan (an iron dagger/sword in various sizes). The Five Ks are the five articles of Sikh faith or items that Guru Gobind Singh ordered Khalsa Sikhs in 1699 to wear at all times, and which are the five symbols that represent such ideals of Sikhism, as honesty, equality, fidelity, meditating on Waheguru (a word used in Sikhism referring to God), and never bowing to tyranny, but resisting it instead.
In spite of its young age in the history of religions, Sikhism has established itself as one of the main religions of the world in such a relatively small span of time. Members of the Sikh community have played a significant role, almost, in every field of life world-wide, including politics, education, sports and entertainment, military, science and technology, agriculture and other professions.
Sikhism has created many great people in history who have gained a huge power, influence, name and fame in different times. Maharaja Ranjit Singh (1780 – 1839) was one of the famous Sikh leaders who established the Sikh Empire, based in the Punjab area of the Indian subcontinent that existed from 1799 to 1849, and extended from Mithankot in the south to Kashmir in the north, and from the Khyber Pass in the west to western Tibet in the east.
Sikhs have played an enormous role in both British Army and Indian Army. There were more than 100,000 Sikhs (20% of the force) in the British Indian Army by the beginning of World War I. Some fourteen Victoria Crosses (the most prestigious and highest award of the British honours system) were awarded to Sikhs until 1945, as a result of their best performance.
Similarly, a large number of military personnel in all ranks of the Indian Army are Sikhs, because 20 per cent of Indian Army officers were Sikhs, as estimated in a 1991 report by Tim McGirk.
Being one of the most-decorated regiments in the Indian Army, the Sikh Regiment has been awarded, so far, 67 Vir Chakras (an Indian gallantry award), 5 Kirti Chakras, 14 Maha Vir Chakras, 2 Param Vir Chakras, 5 COAS Unit Citations, 15 Theatre Honours, 21 first-class Indian Orders of Merit, 14 Victoria Crosses (as already mentioned), 73 Battle Honours and 1,596 other awards.
The first and only officer of the Indian Air Force to be promoted to five-star rank as Marshal of the Indian Air Force was a Punjabi Sikh, Arjan Singh (1919 – 2017).
There is a very large list of renowned Sikh politicians across the world, but Manmohan Singh is an Indian politician, academic and economist who served as the 13th Prime Minister of India from 2004 to 2014, being the first Sikh in office, and also being the first prime minister of the country to be elected again after completing a full five-year term since Jawaharlal Nehru.
Other Sikh Indian politicians include Captain Amarinder Singh (an Indian military historian and politician, serving as current and 15th Chief Minister of Punjab); Shri Varinder Singh Bajwa (a Member of the Indian Parliament and a politician from Shiromani Akali Dal Party); Sardar Swaran Singh (1907 – 1994: who was India's longest-serving Union Cabinet Minister); Surjit Singh Barnala (1925 – 2017: being the Chief Minister of Punjab State from 1985 to 1987); Surinder Singh Bajwa (c. 1955 – 2007: who was the Deputy Mayor of Delhi and a member of the Baharatiya Janata Party); Sukhbir Singh Badal (an Indian politician, President of Shiromani Akali Dal and Member of Parliament at present); Sardar Ujjal Singh (1895 – 1983: who served as the Governor of Punjab, India, from 1965 to 1966); Rajinder Kaur Bhattal (an Indian politician, member of the Indian National Congress and former Chief Minister of Punjab); Partap Singh Kairon (1901 – 1965: who was a leader of the Indian Independence Movement and the former Chief Minister of the province of Punjab (then comprising Himachal Pradesh, Haryana and current Punjab); Partap Singh Bajwa (an Indian politician who served as a member of the Lok Sabha, the lower house of the Indian bi-cameral parliament, from 2009 to 2014); Parkash Singh Badal (an Indian politician, who served as the Chief Minister of Punjab State for several times); Master Tara Singh (1885 – 1967: who was a Sikh religious and political leader in the first half of the 20th century); Harsimrat Kaur Badal (an Indian politician, a former Union Cabinet Minister of Food Processing Industries in the Indian government and Member of Parliament in the Lok Sabha from Bathinda); Giani Zail Singh (1916 – 1994: who served as the seventh President of India from 1982 to 1987); Darbara Singh (1916 – 1990: being the Chief Minister of Punjab from 1980 to 1983); Buta Singh (1934- 2021: who was an Indian politician, a senior leader of the Indian National Congress, Governor of Bihar and the Union Home Minister of India); Baldev Singh (1902 – 1961: who was an Indian Sikh political leader, a leader of the Indian Independence Movement and the first Defence Minister of India), and Preneet Kaur (an Indian politician who served as a Minister of State in the Ministry of External Affairs from 2009 to 2014, etc.
Apart from politics, military and religious activities, Sikhs have also a great role in other fields of life, such as business, literature, journalism, arts and painting, science and technology, medicine, physics, law profession, entertainment and sports, not even in India, but in other countries of the world as well.
Being the fourth-largest religion in India, Sikhism makes up around 1.72% of the total population of the country where more than 20.8 million out of some 25 to 30 million Sikhs live in India, meaning over 83.2% of the world's Sikh population has made India their permanent home.
Sikhs are very hardworking people, and Indian Sikhs have made numerous sacrifices for the defence, development and well-being of India in every sphere of life, ranging from military, education, technology, science, agriculture, judiciary and politics to sports, media, entertainment and business. However, many human rights violations have been conducted against Sikhs in India since its independence in 1947. As a result, a large number of Sikhs have been killed, tortured and their properties burnt and destroyed on many occasions in various parts of the country.
Operation Blue Star was an anti-Sikh campaign in the form of an Indian military action, taken between 1 and 10 June, 1984, for capturing Jarnail Singh Bhindranwale (1947 – 1984: the 14th Jathedar or leader of the prominent orthodox Sikh religious institution, Damdami Taksal) and his followers who had hidden themselves inside the buildings of Harmandir Sahib/Darbar Sahib, also known as the Golden Temple complex in Amritsar, Punjab, India. This operation resulted in estimated 18,000 to 20,000 Sikh civilian casualties during the following two months, as claimed by independent sources.
In the months after Operation Blue Star, the Indira Gandhi-led Indian government carried out a military operation, known as Operation Woodrose, in the state of Punjab against Sikh separatist militants, in which all the influential and famous members of the Shiromani Akali Dal (the largest Sikh political party) were arrested, and the All India Sikh Students Federation banned by the government. Thousands of Sikhs (most of them being young) were detained for interrogation in the countryside by the government forces and tortured later on. Some 1 million persons were reported as missing or killed during the operations conducted by the Indian Army during Operation Woodrose, as claimed by estimates published by Inderjit Singh Jaijee.
One of the worst times of human rights violations against Indian Sikhs was the 1984 Sikh Massacre, which took place in the form of organised violent riots against Sikhs in different parts of India after the assassination of Indira Gandhi (the then Indian Prime Minister) by her two Sikh bodyguards, Beant Singh and Satwant Singh, on 31 October, 1984.
This series of organised pogroms against Sikhs was a Dark Period in the history of Sikhism. The Indian Government had estimated the killing of some 2,800 Sikhs just in New Delhi and 3,350 throughout the country, but independent sources claim the death toll to be over 3,000 Sikhs in New Delhi and around 8,000 – 17,000 or more Sikhs in 40 cities nationwide. This violence against Sikhs spread far and wide in various parts of India, like Bihar, Uttar Pradesh, Madhya Pradesh, Haryana, Delhi and Punjab.
The different methods used for conducting these anti-Sikh riots included immolation, acid throwing, looting, arson, mass rape, mass murder and genocide with a view to carrying out ethnic and religious persecution of Sikhs and taking revenge against them for killing Indira Gandhi. Mass killings of members of the Sikh community took place in many cities across India. Thousands of Sikhs were displaced. The extremist and nationalist Hindus were looking for Sikh people and killing them, indiscriminately, everywhere in the country. The shops, houses and other properties of Sikhs were destroyed and burned. Sikhs had acid thrown on them, and Sikh women were reportedly gang-raped and disgraced in various ways. Even the car of the then Indian President, Giani Zail Singh (being a Sikh himself) was stoned by a group of protesters when he arrived at the hospital where Indira Gandhi was being treated after her shooting.
The 2020 – 2021 Indian farmers' protest is an ongoing protest against the passing of three Farm Bills by Lok Sabha (the House of the People, the lower house of bicameral Indian Parliament) and Rajya Sabha or Council of States. This is, generally, a nationwide protest, launched by farmers from various parts of India, however, the majority of them come from the Punjab area of northern India, with a huge Sikh population.
The large number of Sikhs believe that deregulation of the agricultural sector by the Modi Government is not only detrimental for their economy, as this will destroy their livelihoods, but Sikhs are also now under threat from potentially devastating pogroms by far-right Hindu nationalists with the support of Narendra Modi's far-right government, as written by Sunny Hundal (a journalist, commentator and the social media editor at Open Democracy) on 4 February, 2021 on opendemocracry.net.
While speaking to Bitter Winter (a magazine on religious liberty and human rights) in an interview on December 28, 2020, Premi Singh (a famous and outspoken Sikh activist, based in Europe) expressed his religious and Sikh identity concerns, as "Something huge is happening in India. The protest against the laws, known as the Farmers Bills, mostly (but not exclusively) by Sikhs from Punjab, is becoming the largest protest movement of the 21st century on a worldwide scale, with more than 25 million protesters. While the farmers are fighting for their land, many Sikhs believe a religious element is involved, with a deliberate attempt to dilute and deny their identity, as part of a Hindu nationalist broader policy to 'Hinduize' India."
Mr. Singh believes that passing such farmers' bills, or farm bills is an attempt by the current BJP government (consisting mainly of the members of the RSS (Rashtriya Swayamsevak Sangh, a volunteer far-right Hindu nationalist organization) and other far-right Hindu nationalist groups to deprive the farmers of their fundamental right for going to court on contractual disputes and destroy their livelihoods. These bills, as believed by Premi Singh, are designed clearly in a way to benefit the rich businesses, such as Tata, Reliance Industries, Mittal, Hinduja, Advani and others, which are, without any doubt, owned by wealthy Hindus.
Thus, this is, as claimed by Premi Singh, a systematic process to push Sikh farmers slowly and systematically to migrate to other countries by seizing their lands and completely eliminating Punjab and its Sikh identity.
Qasim Swati is a freelance journalist, writer and human rights activist, based in the UK, and can be reached at https://qasimswati.com or mailto:info@qasimswati.com.