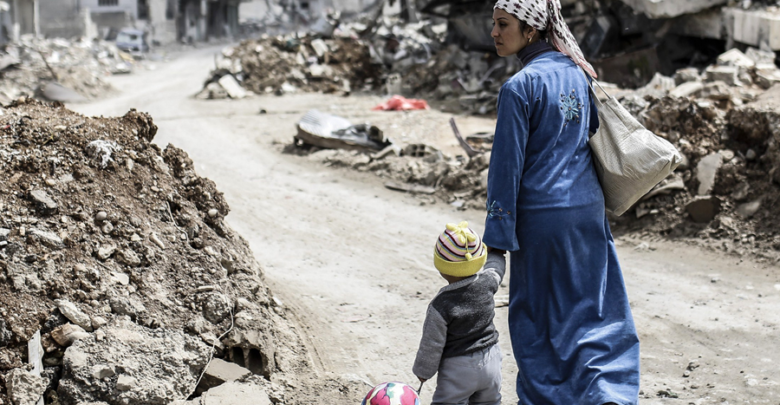 By Qasim Swati (United Kingdom)
The current Syrian conflict is one of the worst examples of disrespecting, breaching and violating international humanitarian law and human rights in the world. This is a crisis in which hundreds of thousands of people have died and more are still dying since its beginning in 2011 so far. The various hostile groups have been fighting against each other to achieve their own individual objectives. Civilians are attacked and tortured, abused and killed indiscriminately throughout the country. Prohibited chemical weapons are being used in the war unlawfully, callously and violently. Humanitarian aid is stopped, blocked and withheld by the warring groups from reaching those who deserve it and who are in desperate need of help, support and assistance.
People are, arbitrarily, detained and tortured in most of the parts of Syria, on a large scale. Civilians are assaulted, kidnapped and victimized and tortured by anti-government armed groups brutally, harshly and savagely. Civilian casualties are committed and perpetrated continuously by, almost, all the participating combatant parties, involved in waging and continuing the Civil War in Syria.
Air-strikes have been carried out by the US-led coalition against ISIS in the conflict, on one hand, which have led to the killings and deaths of so many innocent civilians, including children, women and other vulnerable people. On the other hand, the Syrian government forces, along with the support of Russia and Iran, have missed not a single moment in causing civilian casualties both by conducting air-strikes and artillery shelling. Similarly, land mines have been planted and human beings used as shields during the fighting by ISIS as well.
Last, but not least, Syrian refugees have been pushed continuously to return and go back to Syria by host countries, like Turkey, Jordan and Lebanon, by applying and executing physical and administrative obstacles, barriers and hurdles for the refugees while restricting their rights as such. All the three neighbouring countries, such as Lebanon, Turkey and Jordan, have played their role in forcing the Syrian refugees to go back to Syria in one way or another. As a result, thousands of Syrians, as refugees, had no choice other than deciding to return to such unsafe territories of Syria, as Idlib (a city in northwestern Syria and being attacked by Russia and Assad's forces, at the moment) and other similar dangerous areas where they had to face numberless, innumerable and multiple problems after their return.
Since the start of the Syrian Civil War in 2011 till present (2018), the Syrian people have experienced extremely worst conditions, situations and inhuman treatment. Such brutal, unpleasant and harsh circumstances and problems, experienced by the Syrian people during the more than seven-year-old war in the country, include indiscriminate attacks on people; targeting civilians; continued use of incendiary weapons and cluster munitions; unlawful restrictions on humanitarian aid; sieges and forced displacements, illegal use of chemical weapons; illegitimate application of nerve agents/nerve gases; destroying the infrastructure (buildings, roads, power supplies, etc., needed for the operation of a society or enterprise) of the country; deaths in custody; enforced disappearances, arbitrary arrests and torture; arbitrary detention of local activists and civilians; shooting protesters; killing and injuring ordinary people; conducting explosions in various parts of Syria; using civilians as human shields for their own defence by the fighters in the fighting; arrests, detention and torture of political opposition, activists, journalists and other human rights defenders; sexual assaults, violence and abuse, including rapes, of both male and female population, etc.
The major and principal players and actors, involved in the current Syrian conflict, include the Syrian Armed Forces, National Defence Forces, Pro-government Armed Groups, Hezbollah, Foreign Shia Militias, Iran, Russia, Free Syrian Army, Turkish-backed FSA, National Front for Liberation, Islamic State of Iraq and the Levant, Islamic Front/SIF, Democratic Federation of Northern Syria (SDF), the United States-led coalition of other states for supporting the Syrian Democratic Forces and targeting ISIS in Syria and Iraq and other armed groups. The countries that have carried out air-strikes in Syria during the ongoing Syrian Civil War include the United States of America, Canada, Australia, Bahrain, France, The Netherlands, Jordan, Saudi Arabia, the United Arab Emirates, Turkey, the United Kingdom, Russia, etc.
The present Syrian Crisis has done both a huge human as well as material damage and destruction to the country, as hundreds of thousands of people have been killed and resources of the country destroyed. It is obvious from the figures given by the World Bank, in the World Report, 2018, by the Human Rights Watch that over 400,000 people have lost their lives due to the Syrian Civil War since 2011.
Similarly, more than 6 million have been displaced internally and around 5 million forced to seek refuge in other countries, as claimed by the UN agencies, in the same report. Some 540,000 people have also been estimated by the UN to still live in besieged areas, as of June 2017. Even a recent report in UN News on Syria says that the war has made over 5.6 million Syrians, as refugees, and displaced more than 6.1 million people internally since its start in March 2011 till March 2018.
Syria has experienced extraordinary destruction, devastation and damage in its history since the ongoing Syrian Civil War began in March 2011. The war has forced millions to flee the country and lose their homes, properties, relatives and friends, affecting the children, men and women of all ages.
Likewise, over 13 million people in Syria need to be helped and looked after, as the Civil War in the country has done unbelievable damage and havoc to Syria. These people are in desperate need of humanitarian assistance, while about 6 million of them are children, who require to be assisted and helped on a prioritized humanitarian basis.
As mentioned in the World Health Organization's Annual Report, 2018, on the Syrian Arab Republic, more than 50% of the primary health care centres, clinics and hospitals of the country have been destroyed or damaged, due to which, a large number of the injured people are likely either to die or become disabled for the rest of their lives.
So far the role played by the United Nations in resolving the Syrian conflict is concerned, this internationally responsible body has continuously been struggling to find the best possible solution for ending the Civil War in Syria and bring an end to the Syrian Conflict since its commencement in March 2011 onwards. The United Nations is deeply shocked and concerned about the ongoing situation in Syria. Despite the accountability efforts being blocked at the Security Council (as the government of President Bashar al-Assad is supported and helped by Russia, while the Syrian Opposition being aided and backed by the USA), the UN General Assembly founded a mechanism or technique in the end of 2016 for assisting in investigating the serious perpetrations and crimes, preserve evidence and get such criminal cases perpetrated for criminal proceedings to be conducted in the future.
The Security Council has debated and discussed the Syrian Crisis so many times in informal consultations and has, since 2012, adopted 23 resolutions either entirely on Syria or mainly in relation to the conflict in Syria. To get a political solution to the Civil War in Syria, the United Nations has convened 8 rounds of intra-Syrian talks since 2016, and about 820,200 people have been reached and helped within Syria by humanitarian convoys, led by the UN, in 2017.
Likewise, more than 14 million treatments were delivered by the World Health Organization (WHO) and partners, throughout Syria, in 2017, and WHO managed to carry out operations for vaccinating around 2.5 million children against polio and 4.8 million against measles in the same year.
Apart from it, 2.2 million children aged from 5 to 17 are planned to be enrolled in formal general education by the United Nations International Children's Emergency Fund (UNICEF) and partners in 2018. In the same way, all violations and breaches of international law, in regards to human rights abuses during the current Syrian Civil War since March 2011, are also being investigated by the UN Human Rights Council through the Independent International Commission of Inquiry, too.
Above all, the UN is doing its utmost to cease the war in Syria, and the UN Secretary-General, Mr. Antonio Guterres, while speaking to the press at the UN Headquarters in New York on 11 September, 2018, urged the fighters and their allies to save Idlib from transforming into a blood-bath and concluded, by calling on all the warring parties, as "There is no military solution to the conflict. The solution must be political."
But, despite all these efforts made by the UN for resolving the issue of the present Syrian Civil War, this is not easy to end the ongoing Syrian Crisis without the practical involvement and sincere participation of all the belligerents (nations or persons engaged in war or conflict, as recognized by international law) in the peace process for finding a durable, peaceful and meaningful solution to the conflict.
Qasim Swati is a freelance journalist, writer and human rights activist, based in the UK, and can be reached at https://qasimswati.com or mailto:info@qasimswati.com.