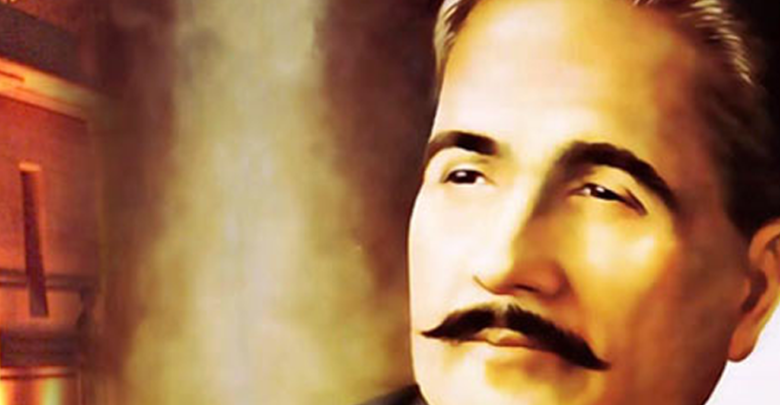 By Qasim Swati (United Kingdom)
William Shakespeare:
Born in Stratford-upon-Avon (a medieval market town in England's West Midlands) in April, 1564 and died in the same English town on 23 April, 1616, William Shakespeare was a renowned English poet, actor and playwright and widely considered as both the pre-eminent dramatist of the world as well as the greatest writer in the English language. He is also believed to be the best-selling fiction author of all time.
Sir Allama Muhammad Iqbal:
Known as the 'Thinker of Pakistan', the 'Poet of the East', the 'Sage of the Ummah (Hakeem-ul-Ummat) and the 'Artist of Pakistan', Allama Muhammad Iqbal was born in the Sialkot region of the Punjab province of British India and now in Pakistan, on November 9, 1877 and died in Lahore (Pakistan) on 21 April, 1938. He is regarded as the ideological founder of the state in Pakistan, one of the founding fathers of the country and the famous poet-philosopher of the East.
William Shakespeare versus Sir Allama Muhammad Iqbal:
Despite certain differences between the backgrounds of William Shakespeare and Allama Muhammad Iqbal, we can find a close similarity, similitude, and comparability in who these two personalities were and what they have done in their lifetime. Some of the analogies, correspondences, and correlations between the works and other life aspects of the two internationally renowned poets are described while comparing the two poetical legends, as follows:
National Recognition: William Shakespeare is often called 'England's national poet', while Allama Iqbal is officially named as a 'national poet' by the government of Pakistan.
Marital/Matrimonial Background: However married three times, Iqbal was 18 years old when he married Karim Bibi, as his first marriage, in 1895. Similarly, Shakespeare was also just 18 when he married the 26-year-old Anne Hathaway in 1582.
International Repute/Reputation: On one hand, William Shakespeare is known as a legendary English poet in the West. On the other hand, Allama Iqbal is regarded as the 'Poet of the East'.
Literary Achievements: William Shakespeare is deemed as the greatest writer in the English language, and his poetry and plays can be found in English. However, the literary works of Iqbal can be found in several languages, like Urdu, Persian, and English, as well.
Philosophy of Life: William Shakespeare has presented human life, while getting through various phases (as the seven stages of man), like being an infant, a schoolboy, lover, soldier, justice, Pantalone/Pantaloon (one of the most principal characters found in Commedia dell'arte [Italian comedy of the 16th to 18th centuries improvised from standardized situations and stock characters] (being money in the Commedia/commedia world, with his exceptional status and greed at the top of the social order) and old age. This is what Shakespeare has talked about and titled, as 'All the world's a stage' in his 'As You Like It', in the form of a monologue (a speech in a theatre, presented by a single character, most of the time, for expressing their mental thoughts loudly, though being directly addressed to the audience or other characters, as well) which the Melancholy Jaques speaks about in Act II, Scene VII and line 138 of the speech. With the help of his message, presented in his pastoral comedy, 'As You Like It', believed to have been written in 1599 and first published in the First Folio in 1623, William Shakespeare has tried to describe the different parts played by a person in their lifetime, whilst going through various stages, starting from childhood, and going through youth, maturity, adulthood, old age and ending in their death.
Likewise, Allama Iqbal has presented his main purpose of life in the form of the various stages of Khudi (Self). While explaining his philosophy of 'Khudi' or 'Self' in his first philosophical poetry book, Asrar-i-Khudi (The Secrets of the Self), the term of Khudi or 'Self' used by Iqbal is similar to the word 'Rooh' or 'Soul' as mentioned in the Holy Qur'an, which he describes as a divine spark, to be found in each human being. A person, according to Iqbal, has to go through a long process of transformation in order to realise what they have within in the form of the divine spark and known as a 'heavenly, angelic or divine spirit', 'Rooh' or 'Soul'.
Thus, it is self-knowledge or self-realisation and not self-destruction, as believed by Iqbal, to be aimed at as the objective of life and can be obtained by undergoing various stages of 'Self' for reaching the climax of perfection in order to enable the human to play their role as the vice-regent (a representative or someone who acts in the place of a ruler, governor or sovereign) of God the Almighty on Earth.
The Inspiration for People: Irrespective of what backgrounds they were coming from, both Shakespeare and Iqbal have helped the people of the world by mentally stimulating, persuading and convincing them to do something creative, innovative, imaginative and superb in their lives and make this world a better place for living. As a result, the literary works of both these great persons have motivated so many people in the world to change their lives from worse to better in some way. So, they have played the role of great inspirers by inspiring, motivating and encouraging people to improve their lives and the lives of others as well in some way.
Religious Views and Affiliation:
William Shakespeare: Although some scholars have speculated that William Shakespeare was an atheist, but it is generally believed that he was a conforming (to obey a rule or reach the necessary stated standard; to behave according to a group's usual standards and expectations or to operate according to a rule) member of the established Anglican Church. The birth of Shakespeare was entered into the church register, as were the burials of his family members and the births of his three children. Similarly, the brother of Shakespeare, named Edmund, was buried in St Saviour's (Southwark Cathedral or The Cathedral and Collegiate Church of St Saviour and St Mary Overie) in Southwark (a district of Central London and part of the London Borough of Southwark, situated east of Charing Cross), who had followed Shakespeare to London as an actor and died there.
Allama Muhammad Iqbal: When just being four, Iqbal was admitted to the mosque for learning the Holy Qur'an. Iqbal was taught the Arabic language by Syed Mir Hassan, his teacher and the head of the madrasa and professor of Arabic at Scotch Mission College in Sialkot. It is obvious from his poetry that Iqbal was hugely interested in Islamic studies, particularly Sufi beliefs (mystic beliefs). If we study his poetry, we will come to know that he has explored concepts of submission to Allah the Almighty and following the teachings of Prophet Muhammad (peace and blessing of Allah be upon him). As a result of his devotion in literary work for Islam, in 1919, Iqbal became the general secretary of Anjuman-e-Himayat-e-Islam (The Association for the Service of Islam, an Islamic social welfare and intellectual organisation).
Being a sincere and dedicated believer in the religion of Islam, Iqbal's thoughts in his work, basically are aimed at the spiritual direction and improvement of human society. While considering Mawlana Jalal ad-Din Muhammad Rumi (a 13th-century Persian poet, Islamic scholar, jurist, Sufi mystic and theologian, originally from Greater Khorasan) as his guide and role model, Iqbal started focusing deeply on the study of Islam, the culture and history of Islamic civilisation and its political future, as he was intensely grounded in religion right down from his early life.
Being a genuine Muslim, Iqbal was a great admirer of the religion of Islam and tried his best to remind his readers, with the help of his literary works, of the glory of Islamic civilisation in the past. He also used to emphasis on delivering the message of a spiritual and pure focus on Islam as the only mean and way of socio-political freedom, liberation, and greatness in life. He was enormously against any division and split among the Muslims of the world and wanted the Muslims to be united in the form of a global Muslim community or the Ummah (the collective community of the Muslims of the world).
In order to make plans for subsiding studies in classical Islam and contemporary social science, Iqbal spent most of his time during his final years in order to help Chaudhry Niaz Ali Khan for establishing the Dar-ul-Islam Trust Institute at Jamalpur estate close to Pathankot. While desiring to protect and save Islamic traditions and values in the Indo-Pak sub-continent, it was Allama Iqbal who advocated and supported an independent Muslim state in the region.
In order to gain spiritual guidance, Iqbal used to visit, most of the time, the Dargah (a shrine built over the grave of a respected religious person, often a Sufi saint or dervish) of a renowned Sufi Ali Hujwiri (Data Ganj Bakhsh, an 11th-century Ghaznian-Persian Sunni Muslim mystic, preacher and theologian, who got some fame for composing the Kashf al-mahjub/Kashf-ul-Mahjoob or Unveiling of the Hidden), located in Lahore (Pakistan).
Qasim Swati is a freelance journalist, writer, and human rights activist, based in the UK, and can be reached at https://qasimswati.com or mailto:info@qasimswati.com.